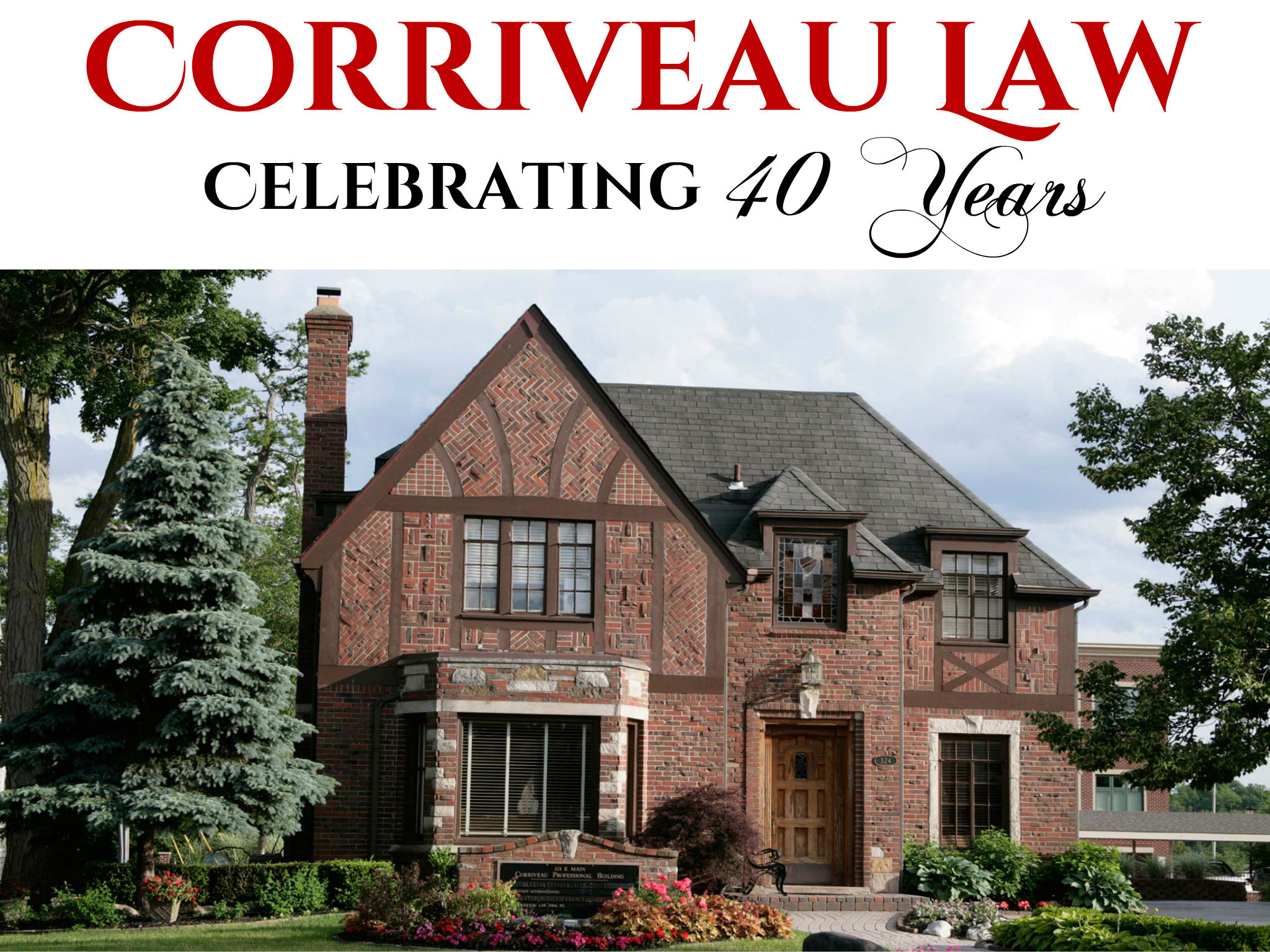 This year, 2016 marked Corriveau Law's 40th Anniversary!
As we prepare for the new year – we wanted to say a very special "thank-you" to our clients, staff, and all who have made these last 40 years golden. Corriveau Law has had the pleasure of serving you for the last 40 years – and, that is quite an honor!
Richard J Corriveau earned his Bachelor of Arts Degree from Michigan State in 1965. "Today, MSU is one of the top research universities in the world- on one of the biggest, greenest campuses in the nation – "Mr. Corriveau continued on with his education proceeding to earn his Law Degree from the University of Detroit in 1975 and later his master's degree in psychology from the University of Michigan in 1976.
Prior to entering law school, Richard J Corriveau taught English and film at Dearborn High School. In fact, he inducted film in the Michigan schools and taught the teachers at Cranbrook how to incorporate it into their classrooms. His students won multiple State and National honors. Several of his students have worked in the television and movie field such as Cheers etc.
He still enjoys educating the public today and sharing his stories with his grandchildren.
After graduating from law school, he worked for two years as a trial attorney until being recruited by Ford Motor Company's Office of General Counsel and other established local firms, before starting his own practice. Mr. Corriveau has been practicing in Northville since 1991.

Richard Corriveau has served or is currently serving on the following:
Michigan Bar Association, Member

Michigan Bar Association Family Law, Member

Oakland Bar Association, Member

Detroit Metro Bar Association, Member

Brain Injury Association, Member

American Arbitration Association, Member, 1976 – Present

National Trial Lawyers, Member

Workers Compensation

Motor Vehicle/Automobile Accidents

Named 100 Best Trial Attorneys by the National Trial Lawyers 2012, 2013, 2014.

Member Michigan Council for Family and Divorce Mediation
It was in 2001 that Corriveau Law moved to its present location in downtown Northville, MI.
History Of Our Building
We are often asked about the history of our building. "Through research and luck we know Harold and Irene Sparling originally built the home in approximately 1935."
"The Sparlings were born in 1896, and 1895, respectively.  Dr. Harold Sparling served in the Navy in World War I, Army in World War II, and the Korean Conflict. His wife, Dr. Irene Sparling, operated a joint medical practice in Northville from 1925."
The Sparlings built their home, believed to be completed in the mid-thirties; they resided there with their daughters Carol Ann and Marjorie.
As its current stewards we take great pride in maintaining its original beauty both inside and out and have had the honor of receiving the Certificate of Beautification Award for several years running.
Through our ongoing communications and contact with outside professionals we are able to draw on expertise beyond the practice of the firm. Long-term relationships with doctors, psychologists, nurses, accountants, and other professionals are just a few of the advantages that separate Corriveau Law from the others in preparation of cases, as well as in the courtroom. "The result is a wide-ranging depth of knowledge that is a benefit to all of our clients."
"It is the goal of our firm to help people through what can easily be the most difficult and trying times of ones life. Family Law can be made easier if they have someone who will ensure that their interests will be protected. Since 1976, this is the standard to which Corriveau Family Law commits itself. " – Joseph P. Corriveau
Thank you, for letting us serve alongside you for the last 40 years!