When creating your estate plan don't forget your pets. Over 65% of households in the United States own pets and chances are if you are among those pet owners you likely consider that animal to be a part of your family. If the proper provisions are not taken and you do not provide for your pet via your will or trust, your animal very well may become "property" of the state in the event of your passing. 
Such unaccounted for "property" can lead to confusion amongst loved ones during an already difficult time. In some situations your beloved animal companion may even be turned over to a shelter. 
Many people love their pets like their children therefore; it only makes sense to take the necessary legal steps to provide for them in the event that they out live you.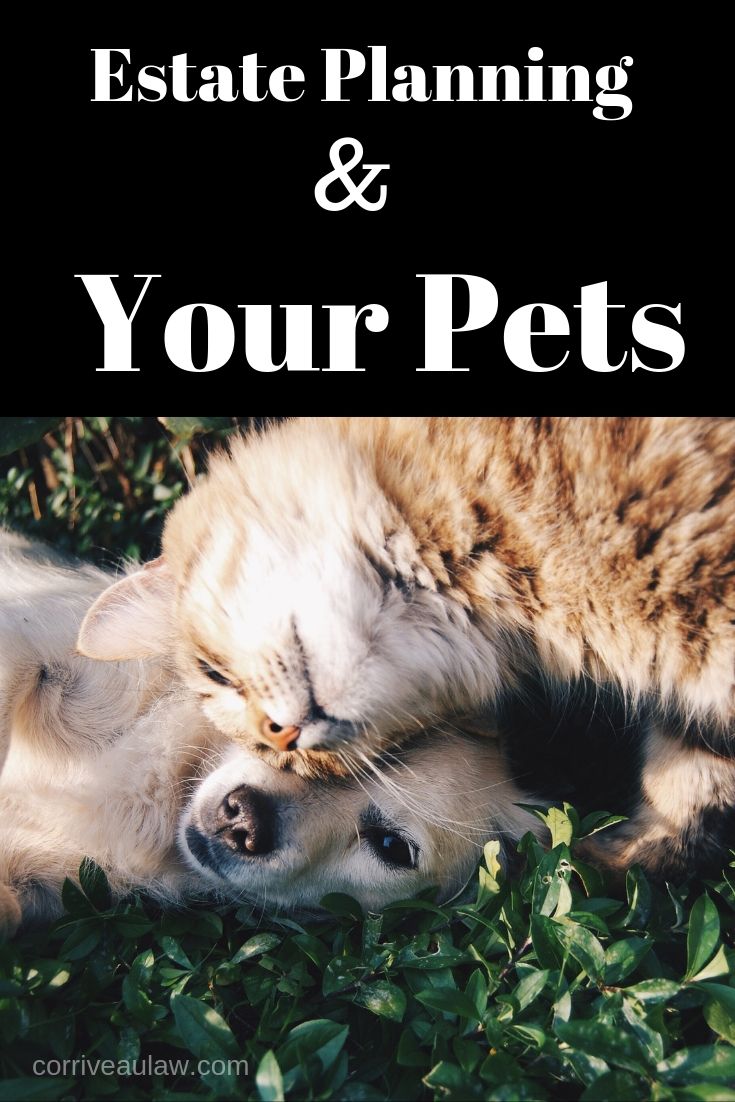 Who will take care of your pet in the event of your passing? 
Consider meeting with family or close friends to decide on who/whom maybe the best caregiver for your pet in the unlikely event of your passing. Be honest about your expectations and only choose someone you are completely comfortable with. Not everyone will be open to taking on the responsibility of a pet that is not their own. 
Make a plan!
In the event of a pet owner's passing a plan should be in place. Where will the pet(s) go, who will feed them, what will they eat, and is this situation temporary/permanent? 
Consider a pet trust
To assure the continued care of your pet for the duration of their life a formalized agreement is highly recommended. Corriveau Law will be happy to assist you with this process. 
A pet trust is a legally binding agreement that provides the necessary care, treatment, and new ownership instruction should the previous owner become incapable of caring for the pet(s) any longer.  
A pet owner may also arrange for financial assistance to be paid out to the new pet caretaker in installments to aid in the coverage of pet expenses. The last thing you want to do is leave your family and or close friend with the financial burden of caring for your pets. Such financial arrangements can aid in everything from food to veterinary expenses. 
To best eliminate a conflict of interest it is advised the trustee is different than the pet caretaker. When a pet trust is made the owner will also decide what will happen to the remaining monies after the pet dies. The longevity of animals varies and therefore, it maybe necessary to further allocate the trust funds. Will the remaining money go to the appointed caretaker or will it serve as a donation to a local animal organization? 
Quick Estate Planning Checklist For Your Pets
Select a guardian for your pet

– be sure to make expectations known and get the consent of the individual. Does he/she really want the responsibility? Or, are they simply "being nice"?

Pet Care Instructions

– doing so will be the most beneficial for those immediate circumstances following an owner's inability to care for their furry companion. What does your pet eat? How much? Where do you take your pet for veterinary care?

Pet Trust or Pet Protection Agreement

– pet trusts or pet protection agreements both provide written proof enforceable in the event that a pet owner has died, is incapable of caring for one's pet, and/or is hospitalized. These legally binding documents provide the protection your pet deserves and that you desire for him/her.   

Choose A Remainder Beneficiary

– who or what organization will receive any remaining funds should there be any in the event that you (the pet owner) dies.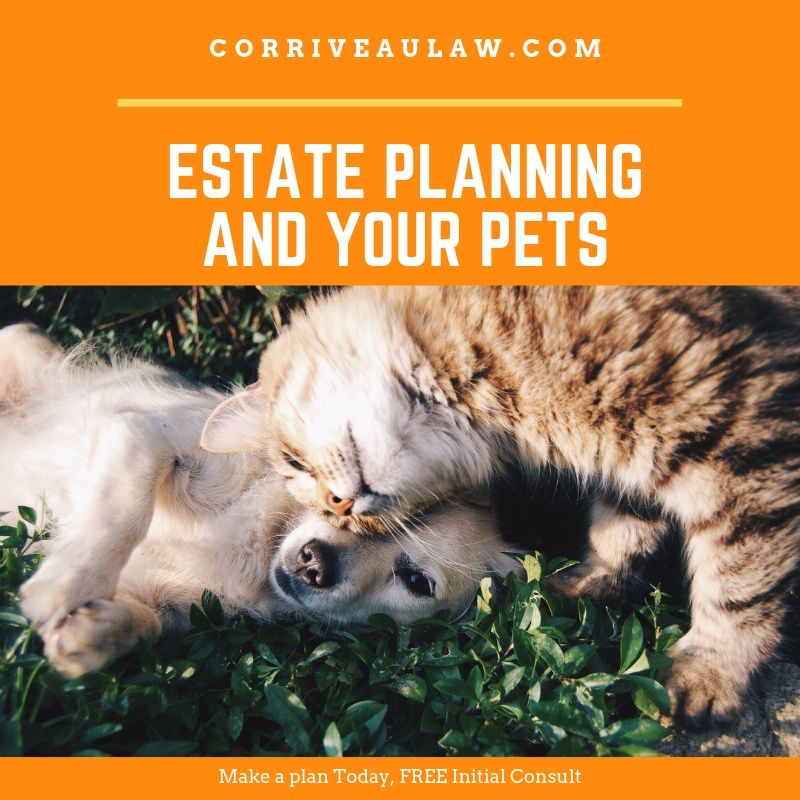 Whatever your plans are for your pet(s) after you go, at Corriveau Law we highly recommend you discuss these plans with a legal representative.
While most cats and dogs live between 10 to 15 years it is not unheard of for a tortoise and some species of birds to live 60+ years. That is a long commitment to assume pet care without having a long term pet care plan in place. 
Let us eliminate any future pet care confusion and let's start planning your pet trust today! 
Contact us for your FREE initial consultation.